A message from your Chief Constable
The PCC's police budget consultation has now closed. Thank you to all those who took part. Giles will now take time to consider the findings and his decision will be announced in due course.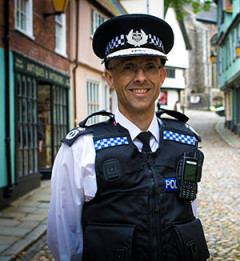 One of my first key tasks as Norfolk's new Chief Constable has been to provide my officers and staff with my vision of where our policing service needs to grow and further improve so that we can provide the exceptional policing all of our communities expect and deserve. This will see us focusing on protecting our communities and rebuilding your trust in us.
To help us deliver against this, we are using central government's Beating Crime Plan and our own Police and Crime Commissioner's forthcoming Police, Crime and Community Safety Plan, to frame how we look at where we need to improve our response and where we need to maintain our delivery. Our mission is to continue to prevent crime and anti-social behaviour, catch criminals and bring them to justice while at the same time providing prompt, professional and accessible service that identifies and investigates crime well, supporting those who are victims of criminal behaviour.
While there have been events over the past year which have stood out to us all, significant concerns around women and girls' safety has become a key focus. We know we need to develop further our response to this and the serious violence such as rape and domestic abuse that often stems from it. We are determined to offer even more support to victims through increased supervision of investigations and a speeding up of the criminal process when bringing offenders to justice. With the exponential increases in reports we are experiencing we need to invest more to ensure we can offer the service the public expects. This will, for instance, give us the ability to invest in supervisory resources to ensure our investigation standards into serious violence enquiries are at the standard you require. We will also invest in our capability to download information from victim's phones within 24 hours which will help to give us quicker leads to solve such serious crimes.
Both of these examples underline how important it is to us to bring as many perpetrators of serious violence to justice and we just don't have enough effective capacity at the moment to do this.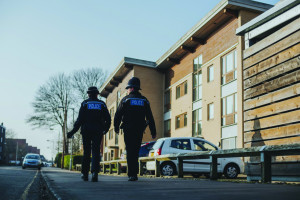 Our local policing teams continue to work with their communities to understand and resolve those issues which are important to you. Maintaining visibility, despite increasing demand, will mean we need additional officers to provide activities such as police patrols using the Street Safe tool and other policing data, without the need to abstract from our busy frontline. We have been using the funding provided through the Uplift programme but this will not give us all that we need.
In addition, our Adder Team, working alongside partners in public health and third sector agencies, also continue to work to target drug supply and protect those who are vulnerable and at risk of criminal exploitation. This is something the force wants to do more of, invest in the prevention of crime, rather than only focus on the outcome. Prevention of the suffering crime brings must surely be a better alternative to only responding when the crime occurs.
Finally, we know how important that first contact is with us. We have put in place extra call takers and invested in technology and other resources to take us further along the route of providing this but there is still more to do.
With inflation at over 4%, we have all seen our costs increase and policing is no different. We have identified where we can make further savings but the rising costs of services will put on further pressure. We have asked the Police and Crime Commissioner to consider raising the precept to the maximum so that we can deliver the service you expect and need.
We need £2.4million just to almost stand still but this alone would still mean we would need to cut our capability and we would not be able to match last years' level of service.
To provide a scalable, adaptable policing model which is capable of facing the demands of modern policing and is fit for the future, we need to, as many of our county partners and regional colleagues are doing, ask for that little bit more.
We don't know what the pandemic or other challenges may bring, but we remain determined to keep you safe and to target those who threaten our communities.
A precept increase, equal to 15 pence per week for a Band B property or 19 pence per week at Band D, will allow us to maintain and invest in our current levels of service and continue to tackle whatever may be just around the corner.

Before you complete the survey, please take the time to consider the words from Norfolk's Police and Crime Commissioner, Giles Orpen-Smellie.