Community Safety Strategic Plan Consultation
What is the NCCSP?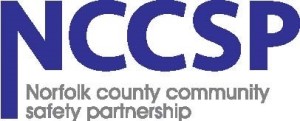 The Norfolk County Community Safety Partnership (NCCSP) brings together organisations from across Norfolk to tackle crime and disorder, and ensure the county remains a safe place for people to live, work and visit.
The partnership is currently supported by the Office of the Police and Crime Commissioner for Norfolk (OPCCN) and chaired by its Chief Executive. The members of the NCCSP represent local councils, policing and fire services, probation, youth offending, health and housing. Its role is to work together to:
Reduce reoffending
Tackle crime and disorder
Tackle anti-social behaviour (ASB)
Tackle alcohol and substance misuse, and
Tackle any other behaviour which has a negative effect on the local environment.

The Community Safety Partnership has worked together to create a new strategic plan, which contains new community safety priorities for Norfolk.
Chair of the partnership and Chief Executive at the OPCCN Mark Stokes said: "The NCCSP wants to engage with the people of Norfolk to understand what matters to them when it comes to community safety. We have developed an evidence-based plan that we believe will make Norfolk a safer place to live, work and visit.
"It is important that the plan reflects the views of the residents of Norfolk. The partnership wants to hear from residents on the proposed priorities, approach, long-term outcomes and anything else residents want to raise about community safety."
Proposed priorities
The NCCSP's strategic assessment of crime and community safety issues affecting Norfolk informed the seven proposed priorities for the next three years. They are:
Serious violence
Domestic and sexual abuse
Preventing terrorism
Criminal exploitation, including modern slavery and county lines
Neighbourhood crimes like robbery, burglary, anti-social behaviour, vehicle crime, and other theft offences
Hate crime and community tensions
Fraud.
Proposed approach
The NCCSP's proposed approach to responding to these priorities uses the evidence-led Public Health Model. This means the NCCSP will develop an understanding as a partnership of the proposed priorities using available data and information. It will then develop interventions that will be effective in achieving our long-term outcomes.
The NCCSP wants to make the public and professionals aware of a variety of community safety issues in order to enable them to better protect themselves and others. Once the priorities have been agreed, the partnership will use a variety of approaches to promote important community safety messages to both the people of Norfolk and professionals.
Proposed outcomes
The NCCSP has proposed setting 12 long-term outcomes, which it will work to achieve over the course of the next three years. They are spread across four strategic areas, which are set out below:
Building resilient, cohesive communities
People feel safe from crime and anti-social behaviour in Norfolk
Reduce overall levels of hate crime, fraud and anti-social behaviour
Victims feel confident reporting their experience and are able to cope and recover.
Tackling and reducing neighbourhood crime
Victims of neighbourhood crime are supported to cope and recover from their experience
Reduce overall neighbourhood crime levels
Reduce reoffending.
Reducing the threat of criminal exploitation
People are prevented from being drawn into criminal exploitation and terrorism
Victims of exploitation are made to feel safe
People most at risk of criminal exploitation in Norfolk are identified and supported as early as possible.
Safeguarding communities from abuse and serious violence
Victims are more confident reporting their experience and are satisfied with the response
Victims of abuse and violence are supported to cope and recover
Reduce overall victimisation, risk, harm, perpetration and reoffending for rape and sexual offences, domestic abuse and serious violence.
Consultation
Please provide your thoughts on the proposed priorities, approach, and long term outcomes of the NCCSP's Strategic Plan by taking part in the consultation. The consultation will close on 16 July 2021.
Strategic Plan
If you would like to read the draft Community Safety Strategic Plan in full, you can access it using the below link.