Community continues to have a voice thanks to Independent Advisory Group
Members of Norfolk's Independent Advisory Group (IAG) have held their first virtual meeting with police since the Covi-19 lockdown.

The IAG, supported by the Office of the Police and Crime Commissioner for Norfolk (OPCCN), is a group of Norfolk residents from different community backgrounds who are prepared to give their opinions and advice with the aim of improving the quality of policing services.

Earlier this month, the group met with Police and Crime Commissioner Lorne Green, Norfolk's Assistant Chief Constable Nick Davison as well as members of the OPCCN and the Constabulary's community safety team.

The aim of the meeting, attended by all 12 IAG members, was to provide feedback to the police on the community impact of Covid-19 as well as find out how police and partners are working together in the current climate.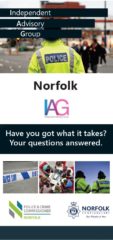 PCC Lorne Green, said: "Working in partnership is essential to keeping Norfolk a safe place for everyone and, in my opinion, a vital partnership is the one between our police and communities.

"The value of this group is fundamental to ensuring that Norfolk Constabulary remains open, transparent and community focused.

"The value and worth of the group is even more apparent given the current situation we find ourselves living and working in.

"It is crucial we hear first-hand the impact the virus is having on our communities. Such direct engagement can only help to better inform the way the county is policed.

"I would like to thank IAG members for their continued commitment during these difficult times."

During the meeting members were given an update from the Constabulary on the current policing and crime levels across the county.

Members were also informed about the vital work being carried out by the OPCCN, police and partners to support victim services across the county in areas including domestic abuse and scam prevention.

IAG chair, Les Rowlands, added: "I am really pleased we were able to hold this virtual meeting to allow our members to put forward any views they may have had about the lockdown measures to Norfolk Police and OPCCN representatives.

"We raised our concerns about the drop in domestic abuse calls in the county, which may be an indication of a 'hidden' problem, and were reassured the police and the OPCCN are fully aware and indeed have a range of strategies in place to address this important issue.

"The update from ACC Nick Davison on the lockdown effects on crime was also very welcome.

"It enabled everyone to gain valuable insight into the volume of crime and how the police are dealing with the vulnerable in the community and helping to safeguard adults and children across the county.

"A presentation by the OPCCN about the important work they are doing with the Youth Commission was also welcomed by everyone."

IAG members have been invited to contribute and comment on regular weekly 'virtual' Covid strategy meetings which Mr Rowlands said was "indicative of Norfolk Police having an open and transparent approach to the Government's present emergency regulations."

ACC Nick Davison, added: "With its genesis stemming from the Stephen Lawrence Inquiry the Constabulary has a long standing relationship with the Independent Advisory Group.

"Through the involvement of the Police & Crime Commissioner and his staff, Norfolk's IAG is well placed, providing valuable critical friend advice to the Constabulary across a wide range of our work.

"IAG members come with experience; can and do see things from different perspectives, often anticipating how police responses to policing problems may affect and be interpreted by communities and the opportunity to engage during the Covid 19 pandemic over a range of issues was most welcome and will continue."

Members will meet virtually again early next month to ensure communities continue to have a voice and direct dialogue with the police and the PCC.

For more information on IAG visit our website here>>