"Dream come true" as Norfolk apprentice nets national accolade
A dream has come true for a Norfolk apprentice who has turned her life around thanks to a scheme launched by the county's Police and Crime Commissioner and the Department for Work and Pensions.
Alex Burzec, a Support Coordinator at Home Group, found employment through the Gateway to Employment (GtoE) scheme which gives ex-offenders a second chance.
Having already been crowned 'Regional Rising Star' at the Eastern Region National Apprentice Awards, Alex was hoping to reach for the stars by netting the national title.
Yesterday evening Alex's "ultimate dream" came true after she was presented with a highly commended National Rising Star Award at the National Apprenticeship Awards.
"Achieving the 'Rising Star' Apprentice Award in the East Region was a huge surprise and I felt truly overwhelmed by this," said Alex.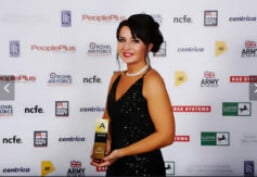 "To receive a highly commended National Rising Star Award is my ultimate dream come true. There are no words to explain how happy I am right now. I feel that I have accomplished something outstandingly brilliant.
"This award is not just for me, it is also for all the people who have supported me to get here. The award is fantastic recognition for my employer Home Group, it acknowledges their continued investment in my professional development.
"Without my apprenticeship I wouldn't be where I am today and I really appreciate Home Group's commitment to apprenticeship's for people facing barriers to work.
"It has been a truly amazing journey for me and right now I feel that I have actually reached the stars".
Four years ago a life-changing situation ended in Alex receiving a two-year custodial sentence.
A desire to learn was sparked in prison and, having gained qualifications to help her find a job on her release, the GtoE scheme found her an opportunity with Home Group who were impressed by her 'honesty, integrity and motivation'.
Alex is now in a permanent position at Home Group providing support to offenders and ex-offenders at risk of homelessness.
The GtoE scheme, launched by the PCC and the Department of Work and Pensions in 2015, works with local employers to secure training, apprenticeships and employment opportunities for ex-offenders; a strategy which has been shown to significantly reduce re-offending.
With 10 million people in the UK having a criminal record, GtoE opens up a new candidate pool for employers, helping them to fill skills gaps and meet staffing needs.
Hearing about Alex's achievements, PCC Lorne Green said: "I'm delighted for Alex, she is proof that a scheme like Gateway to Employment and support from local employers like Home Group can have genuine, tangible benefits for all.
"My congratulations go to Alex, and a big thank you to all the Gateway to Employment organisations playing their part in helping ex-offenders turn their backs on crime, reducing re-offending and thereby keeping our county safe."
Case study – Alex's story
"I was not a "normal" person coming through the door, applying for a job. I had a complicated history which had resulted in complex barriers to employment. I needed extra help from the agencies supporting me. I needed an employer who would not judge me for my past but would see my potential and offer me a helping hand to overcome the hurdles in front of me.
I had a strong desire to challenge the perceptions and stigmatisation that many women face, including me, women from disadvantaged backgrounds and specifically those that have experienced mental health trauma as a result of domestic abuse.
Home Group listened to me and believed in me – they proved this by offering an apprenticeship opportunity.
At the time I didn't know much about apprenticeships but this was clearly a chance for me to get back to paid employment and gain a qualification which I could build a new career pathway on. This has turned out to be the best decision I have ever made and my life is completely turned around now."
What does it mean to be a national finalist in the National Apprenticeship Awards 2018?
"Looking back at my life 2 years ago, it is hard to believe that I am a national finalist. Getting this far has helped me to reflect on the hard work, true grit and determination that I have put in. It has reminded me of all my other achievements throughout my apprenticeship with Home Group.
"Becoming a national finalist has transformed my confidence and boosted my self-esteem. This has totally reshaped my aspirations. My future goals are much more ambitious as a result of this.
"Most importantly this is an extended opportunity for me to be a role model and an inspiration to other women. My permanent job with Home Group as a Support Coordinator enables me to provide help and support to people with a similar life experience.
"I am a testimony to others that it is possible to rebuild your life again from scratch. Already my story has been published in Home Group's national customer's magazine and already one woman has successfully started her apprenticeship as a result of reading this. I always said that if I can change one person's life around by sharing my story and/or inspiring and supporting others then I would be satisfied.
"So in summary, being a national finalist means everything. I reached a point in my life where I made a decision not to give up and to turn my life around. This outcome is the result. It proves that everything is possible, no matter what your past holds. What really matters is who you are today and what you have become."
The National Apprenticeship Awards, now in their 15
th
year, celebrate outstanding apprentices and employers.
For more information on Gateway to Employment, visit www.gtoe.co.uk or, if you would like to find out how your organisation can sign up, contact Mary Scales at the Department of Work and Pensions via email to: mary.scales@dwp.gsi.gov.uk