Great Yarmouth hosts PCC's policing Q&A
Assaults on emergency workers, anti-social behaviour and the loss of PCSOs were just a few of the issues raised at a question and answer session hosted by Norfolk's PCC Lorne Green and Deputy Chief Constable Nick Dean in Great Yarmouth.
The event was the third of its kind to be held in the county as part of the Commissioner's ongoing pledge to give the public access to the county's senior officers while ensuring he and the wider police service are visible, accessible and accountable to all.
Great Yarmouth Town Hall was the venue for the event yesterday evening, which gave residents the opportunity to find out about policing in their area while meeting senior officers and raising their crime and policing concerns.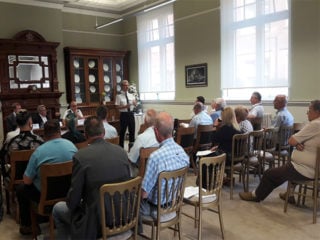 As well as getting an overview of police activity and priorities from District Superintendent Roger Wiltshire, the meeting heard about ongoing challenges and demands faced by the Force including fraud, online safety and missing people.
Deputy Chief Constable advised the meeting that technology has led to "far greater" demands on the police service "than ever before", particularly in areas of child abuse and online grooming.
The meeting also heard how, despite the loss of PCSOs, there are currently 27 student police officers in training in the Great Yarmouth area.
DCC Nick Dean, said: "The advantage of having officers over PCSOs is well documented. Not only the obvious financial advantage, but the flexibility to deploy officers across the county, these are warranted officers and have a full range of powers.
"The type of crime we have to deal with now is very complex, hidden crimes such as online abuse and child sexual exploitation. I accept some of the communities do realise the loss of PCSOS but we have to look at in its entirety."
Responding to a question about assaults on police officers Mr Green, reinforced his determination to see tougher sentences for those caught assaulting emergency service workers.
"Policing is not a combat sport, officers don't go to work to be assaulted," he said, "I want to get the maximum sentence possible for those who choose to have a go at police officers. Those who attack emergency workers have made a choice to do so and we should throw the book at them."
DCC Nick Dean, added: "We take around 350,000 calls a years in our police control room and record around 50,000 crimes and the numbers of assaults on officers is relatively small.
"However when an officer is assaulted it is unacceptable and we have to support those working on the frontline.
"Body cams have helped to record the level of assault and level of aggression and we have also increased the number of officers carrying tasers. But if we can't prevent it and an officer does get assaulted there are a lot of support mechanisms in place to support them."
The meeting was also told how over 650 arrests had been made across the county under the police's Operation Gravity initiative with more than £750,000 worth of drugs being taken off the streets in the Great Yarmouth area in the past year alone.
It was also revealed how the police had received a total of 687 reports of missing people in the area between April 2017 and March 2018.
Attendees also had the opportunity to meet with local officers including Chief Inspector Nathan Clark, Sgt Julie Johnson and Community Engagement Officer PC Dan Potter.
Prior to the meeting, Lorne met with residents and local business owners in and around the town to discuss their views on policing.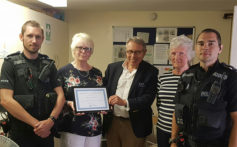 He also visited
Centre 81
and CCTV Gorleston where he presented staff with a certificate for 10 years voluntary service to the local community.
"This is a team of volunteers who give up their time freely," said Lorne.
"I was really impressed with what I saw on the ground. It is a wonderful example of how the community can work together with the police."
Last year, Lorne held seven Public Accountability Forum (PAF) meetings – one in each district – with the Chief Constable, each followed by a public Q&A session.
For 2018, Lorne decided to split the two events – holding each PAF at police headquarters in Wymondham while taking the Q&A sessions 'on tour' across the county.
"I pledge to give every man, woman and child the opportunity to influence local policing in the area where they live," added Lorne.
"As Norfolk's Police and Crime Commissioner, it is important I listen to any concerns people may have about policing and my question and answer sessions are a perfect platform in which to do so."
Over the course of the year, the PCC will be making his way around the county.
The next event is scheduled to take place on 25 September 2018 in the North Norfolk area.
Further information will be announced in due course