New PCC-funded scheme sees offenders given "a second chance"
Prisoners and ex-offenders are being offered vital support to help turn their lives around thanks to an initiative funded by Norfolk's Police and Crime Commissioner.
Community Chaplaincy Norfolk (CCN) has been supported by the PCC since February this year to help those keen to make a fresh start by changing their attitudes and behaviour which previously led to criminality.
A team of 14 volunteer mentors have been working with offenders in prisons including Norwich and Wayland to offer support and guidance for life beyond the prison gates.
The scheme – the first of its kind in Norfolk - has received more than £20,000 for the next two years from PCC Lorne Green who was delighted to meet with a group of newly trained volunteers in Norwich last week.
"What the team of dedicated mentors are offering these men is a second chance in life," said Lorne.
"There are four important factors which can help prevent re-offending; having a family waiting, having gainful employment, having accommodation and getting help with problems such as mental health issues or substance abuse.
"One of these however is worth more than all the others and that is family, not necessarily in the traditional sense but caring for others which is what the team of enthusiastic, selfless mentors do."
Community Chaplaincies
work alongside prisoners, ex-prisoners and their families. They are multi-faith and work with offenders of all faiths and none.
Dozens of referrals have so far been made to the Norfolk team who are also planning to work with female offenders at Peterborough Prison whose future may lie in Norfolk.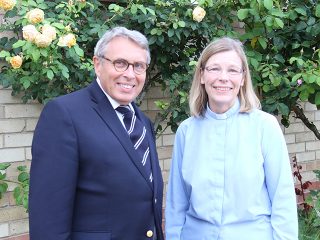 Rev Susan Carne, who heads CCN, said: "A lot of people who come out of prison have nobody there for them, their families have cut them off, they don't want to go back to their old area where they may mix with old circles of friends and get into trouble again.
"Our mentors meet with their clients at least a couple of times before they come out of prison to help them put together a plan to start a life that doesn't involve this revolving door of going back into prison.
"The resilience I am seeing in our mentors is amazing. There is a real buzz, a real willingness in Norfolk to help people."
The main aim of the scheme is to offer offenders the support and motivation they need to stop them reoffending once released from prison and to lead a more fulfilling lifestyle within their local communities.
"My ultimate aim is for them not to go back to prison again and that is what they want too," added Susan.
"We want to help them to create the life they want and fulfil their own expectations and ambitions by helping them to take those simple little steps in rebuilding their lives."
If you are interested in becoming a volunteer for the scheme please contact Rev Susan Carne on 07465 428456.