Norfolk employers continue to pledge to help victims of domestic abuse
Thousands of employees across Norfolk now have access to vital help and support if they are affected by domestic abuse thanks to the launch of workplace pledge in the county.
The *HEAR Pledge was launched on White Ribbon Day 2020 to encourage employers to play their part by making simple changes to policy to break the silence around domestic abuse.
A year on – on White Ribbon Day 2021 – the number of organisations which have signed up to the pledge now totals 50.
Nearly 30,000 employees are represented by those 50 companies which range from large organisations including Norfolk County Council, Norfolk Police, Norwich City Council, the James Paget and Queen Elizabeth Hospitals and Norwich City Football Club to smaller supermarkets, recruitment agencies, event organisers and sports clubs.
The campaign – launched by the county's **Domestic Abuse and Sexual Violence Group (DASVG) – is ongoing with employers across the county being encouraged to follow-suit and make that key pledge to help victims of such abuse.
During White Ribbon 2021 - and the 16 days to end violence against women that follow – people are being urged to join together and say 'no' to violence against women.
The key message this year is that #AllMenCan say no to violence against women and girls and campaign organisers hope to 'reach as many individuals, workplaces, communities and schools as possible'. In Norfolk the hope is employers, male and female, will use the occasion to make a practical difference.
Gavin Thompson Co-Chair of the DASVG and Director of Policy Commissioning and Communications at the Office of the Police and Crime Commissioner for Norfolk, said: "We would like to say a huge thank you to those employers who have signed the pledge and shown their commitment to helping those affected by domestic abuse.
"In turn they have helped tens of thousands of employees get access to the right specialist support they need and deserve.
"Together we can all make a difference. One year on we are still really keen to ensure the campaign grows from strength to strength and helps those who need it the most.
"We must all work together to prevent abuse and make sure our communities and homes are safe for everyone 365 days of the year.
"With companies and employers having an important role to play in helping to prevent domestic abuse where it impacts on the workplace – whether someone is working at home or in the office – it is crucial HEAR continues every day of the year."
Examples of changes made by some of the companies who have signed up to HEAR include:
· We have developed a new Domestic Abuse Policy and rolled out to all staff within our Employee Handbook
· We ran an awareness raising programme across the whole team and updated our policies and procedures
· We made changes to policies and created a lead team member to support victims.
· We organised training for staff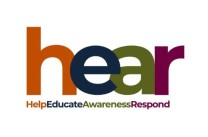 Rachel Barnett, Head of People & Culture at Norwich City Football Club, one of the first companies to sign-up, said: "As an employer we understand our responsibility to create a culture that recognises that some colleagues will be experiencing domestic abuse and that the workplace should be a place of safety.
"Through our domestic abuse policy and working to raise awareness, we aim to create a safer workplace and send out a strong message that domestic abuse is unacceptable. We have used the Club's reach to encourage other organisations to sign the HEAR pledge, in order that we can work together to tackle domestic abuse across Norfolk".
Among the organisations locally to sign up to the HEAR pledge is also the James Paget University Hospital, which has its own Independent Domestic Violence Advocate (IDVA) as well as a network of 40 domestic abuse champions across its wards and departments, to support both staff and patients.
Director of Nursing Paul Morris said: "White Ribbon Day is a vital way of supporting victims of domestic abuse. On this day each year thousands of people stand up, speak out and say #NoToDomesticAbuse.
"It is, however, just one day: we must work together to prevent abuse and make sure our communities and homes are safe for everyone 365 days of the year.
"With more people working from home due to the pandemic, it is important as employers that we make certain that those at risk of abuse understand they will be heard - and that the help and support they need is there for them."
The Norfolk initiative won national backing in March from the country's Domestic Abuse Commissioner Nicole Jacobs.
*HEAR stands for Help, Educate, Awareness and Respond, with organisations being asked to pledge to:
> Help
Every employer has a duty to provide access to organisations who can help employees: We will ensure colleagues affected by domestic abuse are given access to the right specialist support.
> Educate
Every employer should ensure the right training is provided: We will make sure the right training is provided to staff to know what steps to take to support colleagues.
> Awareness
Every employer has a responsibility to be aware of domestic abuse: We will not tolerate domestic abuse in any form and will provide a supportive workplace for colleagues who experience such abuse.
> Respond
Every employer should ensure the right policies are in place to respond to domestic abuse: We will review our policies and processes and ensure they are implemented correctly.
On signing the pledge, a campaign toolkit is available for employers to download with information on help and support for staff, guidance on drafting policy about domestic abuse, internal communications and a campaign poster.
**The DASVG is made up of councils, the Office of the Police and Crime Commissioner for Norfolk (OPCCN), police and health organisations – all with a strategic aim to address domestic abuse and sexual violence in Norfolk.
How to seek help
Your Police and Crime Commissioner (PCC) works with a number of organisations across the county to ensure specialist support is available for those affected by domestic and sexual abuse.
If you know someone who is the victim of domestic or sexual abuse, we encourage you to seek help.
The police will always respond to emergency calls - if you are in immediate danger, always call 999. Police 101 is the non-emergency number.
More information on specialist support services can be found on our website here >>