Norfolk voluntary sector in focus as PCC swears in
Norfolk's newly-elected PCC, Lorne Green, today highlighted the work of the voluntary sector as he was officially sworn in for a four-year term.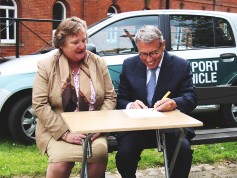 Lorne chose to make his formal Declaration of Office at the
Safe Haven Project
on Prince of Wales Road in Norwich to recognise the work that it and other voluntary organisations do to keep people safe and reduce demand on policing and other public sector agencies.
By signing the Declaration of Office, the PCC pledges to serve the people of Norfolk and give them a voice on crime and policing. He also agrees to carry out his duties of office to ensure police can cut crime and protect the public, without interfering with their operational independence.


On why he chose Safe Haven to host the signing, Lorne said: "I've met with a number of Norfolk's voluntary organisations, and I spent time as a volunteer with the Safe Haven Project on Prince of Wales Road to better understand issues of vulnerability and risk affecting young people in particular.
"The Safe Haven Project and its Prince of Wales neighbour the
SOS Bus
are illustrative of the excellent work done in Norfolk by our voluntary and community organisations.
"I know they don't do what they do for recognition or credit but I think we, as a county, owe them a great debt. Their efforts keep vulnerable people safe from harm and prevent crime, thereby reducing demand on our police officers so they can focus on prevention and investigation."
Lorne also called for the county's statutory partners to work more closely with each other and the voluntary sector in tackling vulnerability and the risk of harm in Norfolk.
"I think we should all be more aware of the contribution of our voluntary sector organisations, and in a period of tight budgets, we should be encouraging more joined-up services.
"We need a wider community conversation on vulnerability and risk, and what we can do in partnership to address the underlying issues. I invite Norfolk's public, private, voluntary and community sector organisations to join me in that conversation."