Norfolk's PCC holds virtual meeting with domestic abuse providers
Norfolk's Police and Crime Commissioner (PCC) has held a virtual meeting with specialist domestic abuse and sexual violence providers in Norfolk in a bid to offer continued reassurance and support in light of Covid-19.

Supporting victims and reducing vulnerability continues to be one Lorne Green's key priorities as Norfolk's PCC and his office (OPCCN) has been in daily contact with commissioned services to offer help and advice.

Yesterday Lorne hosted a conference call with five of the OPCCN's commissioned services who support victims and survivors of domestic abuse. Providers represented included Leeway, the Daisy Programme, the Pandora Project, the Sue Lambert Trust and Norfolk and Suffolk Victim Care.

"We are all committed to doing everything we can to help our communities during such difficult days," said Lorne.

"It was a very positive meeting during which I sought to reassure our commissioned services that we are there with them every step of the way.

"My office has been, and continues to work tirelessly to ensure support is in place to help those in most need in Norfolk.

"At times like these it is more important than ever to stand together and to offer all the help and support we can to those who most require it.

"Such providers are doing an amazing job in very difficult, sometimes testing circumstances, to ensure those affected by domestic abuse in Norfolk know there are wonderful organisations and people there to help them go from victim, to survivor, to champion."

The meeting came shortly after the launch of the Home Office's domestic abuse awareness campaign #YouAreNotAlone.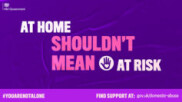 Launched on the 11 April 20 the Home Office initiative aims to reassure anyone at risk of, or experiencing domestic abuse that help is still available during this difficult time.

The campaign will be publicising support available including the freephone, 24 hour National Domestic Abuse Helpline number – 0808 2000 247 – run by Refuge, and www.nationaldahelpline.org.uk.

For more information on #YouAreNotAlone visit the Home Office website.

How to get help

The police will always respond to emergency calls if you are in immediate danger and there are many local charities and organisations still working to help you through this difficult period where you may feel more at risk.

If you know someone who is the victim of domestic abuse, we encourage you to seek help.

Some charities and organisations will be offering support over the telephone or online, please find the full list on our website. if you need to contact someone for support or advice.

If you are in immediate danger you should still call 999. Police 101 is the non-emergency number.


Silent Solution
The Silent Solution system helps filter out accidental or hoax 999 calls from those who need genuine police assistance.
If you are calling from a mobile phone and speaking or making an immediate sound would put you in danger and you need immediate help, call 999 and stay on the line, then press 55 when prompted and the call will be transferred to the police, who will know it is an emergency call.
If you are calling from a landline, Silent Solution does not apply as it is less likely to call 999 by accident. If an emergency call is made and no one speaks and only background noise is heard and an operator does not know whether an emergency service is needed, you will be connected to a police call handler.
Information about where you are calling from on a landline will be automatically available to call handlers to help provide a police response.