PCC announces vital funding for victims of sexual abuse in Norfolk
Victims and survivors of sexual abuse are continuing to receive vital help and support thanks to funding from the Office of the Police and Crime Commissioner for Norfolk (OPCCN).
The Rowan Project has received a cash-boost of more than £200,000 to extend its pilot project to offer specialist support for victims of sexual abuse, sexual violence, rape, and recent and historic child sexual abuse in the Breckland area.
Norfolk's PCC Giles Orpen-Smellie, who has made tackling Violence Against Woman and Girls (VAWG) one of his priorities in his Police, Crime and Community Safety Plan for Norfolk, said: "Sadly, it is clear there is a demand for such services in our county and when someone has found the courage to seek help it is only right the correct support is there for them.
"I am therefore really pleased to be able to announce this vital funding for the Rowan Project to ensure its crucial work continues to make a difference to those affected by such horrific abuse, helping them to move forward on their personal journeys and support them in their recovery."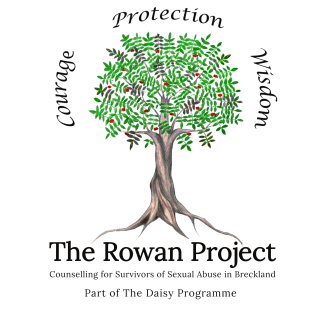 The Rowan Project was set up in the Breckland area by the Daisy Programme which has provided support and counselling to people affected by domestic abuse for eight years.
Thanks to the initial funding of £141,066 from the OPCCN, Daisy began offering specialist support for victims of sexual abuse, sexual violence, rape, and recent and historic child sexual abuse – a project now known as the Rowan Project.
The service officially launched in February 2021 – during the Covid-19 pandemic – as a two-year pilot scheme. The latest funding of £202,944, will support the project until March 2025.
As well as helping Rowan to further develop, build momentum and resilience – particularly after the Covid pandemic – the grant will fund the introduction of therapeutic services post counselling to help victims move forward, cope and recover – a request highlighted by 80% of those who have completed counselling.
Kate Biles, Programme Director for the Daisy Programme and the Rowan Project, said: "This vital funding from OPCCN enabled us to establish the Rowan Project to offer free counselling and support for survivors of sexual abuse in the Breckland which met an urgent need for specialist support for sexual abuse.
"The extension of the funding will enable us to support more people through a trauma informed, strengths based and client-led approach to create long term recovery.
"Each survivor is unique, as is their experience of abuse, and with the right support we believe that every person has the potential to rebuild their lives."
Since the launch of the project in February 2021 to end of March 2023, the project has received 216 referrals with 173 people being accepted into the counselling service. Some 99 have been self-referrals, representing 46%.
During this time, 106 clients completed their counselling and moved on with their lives. The number of sessions varied according to individual needs and in total more than 1400 sessions were provided.
---
Feedback from clients has been positive with comments, including:
"It has not been an easy journey and I have had many ups and downs but with my counsellor's support I had the courage to continue and now that my sessions are over, I feel so much stronger and positive about my life."
"I could not have asked for a better counsellor. She was professional, so caring, so gentle, and patient in her approach. She listened and showed a lot of empathy and reassurance. My journey was a very difficult one, but she made me feel safe and valued. I trusted her and that made it easier for me to open up to her. I cannot thank her enough."
"I was very traumatised and emotional when I began my sessions. Now feel much calmer and more able to accept the trauma as part of my past that cannot harm me anymore. My counsellor was very emphatic and supported me well. Keep up the good work thank you for your service."
---
The Rowan Project delivers free, confidential advice and practical and emotional support to male and female adults and young people (aged 16 plus) who are affected by sexual abuse.
To help service users cope with and recover from the harm and psychological distress they have experienced, support is available over the telephone, online or through face-to-face sessions.
The support services provided by The Rowan Project and the Daisy Programme can be accessed via:
Website: www.daisyprogramme.org.uk
Email address: rowanproject@daisyprogramme.org.uk
Telephone: 01953 880903