PCC backs initiative to educate young people about knife crime
An innovative project to educate young people about the dangers of knife crime has been launched in Norfolk thanks to funding from the county's Police and Crime Commissioner (PCC).
As part of his commitment to preventing offending and reducing vulnerability, PCC Lorne Green has given his support to the Norfolk Constabulary-led project which sees teenagers given life-saving first aid training.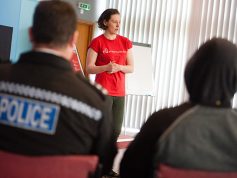 Delivered by registered charity
StreetDoctors
, the project provides those taking part with education and advice, with the aim of changing attitudes towards violence and helping them take responsibility for their own actions.
Some 110 young people from Norwich and Great Yarmouth took part in the first training sessions held in Norwich at the weekend, with more opportunities to follow in 2018 and 2019.
It is the first time the project, supported locally by the Norfolk Youth Offending Team, has been delivered in East Anglia.
PCC Lorne Green said: "I am delighted to have been able to bring this innovative project to our region. When it comes to tackling any kind of crime, preventative strategies have a vital part to play.
"It's crucial we educate our young people about the dangers of knife crime – whether as a victim or an offender. These are life-saving skills we are developing, alongside an awareness and understanding that individual actions have consequences. Where knife crime is concerned, those consequences, for all involved, can be severe."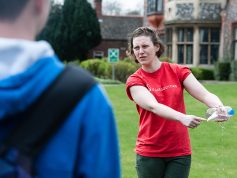 Chief Inspector Nathan Clark said he hoped the initiative would show young people the serious consequences that carrying a knife and using one could have.
He said: "This is a great opportunity for us to tackle knife crime; this is a serious crime which can have devastating, even fatal consequences.
"Clearly we aim to tackle this through enforcement, arresting and prosecuting people found in possession of knives and those who use them. Enforcement alone will not solve this and education and awareness is also key and the StreetDoctors initiative gives young people the chance to have face-to-face conversations about the consequences of using knives.
"A lot of young people we deal with simply don't understand the serious consequences of their actions and I believe the input from doctors will help them face the realities that knives can take lives."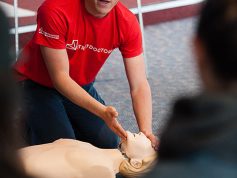 Chris Small, Head of Norfolk's Youth Offending Team, said: "The StreetDoctors programme educates young people in both the potentially tragic consequences of knife crime and the invaluable lifesaving skills that can make such a difference in an emergency.
"Part of our role within the Youth Offending Team is to prevent reoffending and to support young people to develop skills to support their future."
Sam Jackson, Medical Director of StreetDoctors, added: "Working with the young people of Norwich and Great Yarmouth has been an incredible opportunity to reach further than our usual geographical limits.
"PCC Lorne Green's Early Intervention Fund has meant our experienced medical volunteers could travel from around the country to attend the events, and support the delivery of sessions aimed to change an individual's perception on the consequences of violence and how to deal with a medical emergency should it arise."
The StreetDoctors initiative is one of a number of community policing projects being supported through the Early Intervention Fund. The fund is open to policing teams across the county to help them work with communities to tackle local crime, disorder and community safety issues.