PCC opens new Great Yarmouth support centre for sexual abuse survivors
Norfolk's Police and Crime Commissioner (PCC) has officially opened a new centre in Great Yarmouth for survivors of sexual abuse.
The Sue Lambert Trust, which provides counselling, practical and emotional support to survivors of childhood sexual abuse, rape and sexual assault, invited PCC Lorne Green to open its new premises on King Street in the town yesterday (16 January).
Last year, the PCC made the decision to double the annual funding he gives to the Sue Lambert Trust - which also operates from Norwich, with satellite services in King's Lynn and Thetford - in response to demand for its services increasing significantly in the last five years.
The additional funding has supported the organisation to train more volunteer counsellors and extend the number of client sessions available each week to those seeking help to cope and recover from what they have experienced.


On a previous visit to the Sue Lambert Trust, the PCC met with a survivor of sexual abuse to hear first-hand about the difference the organisation's support services had made to her. She told him:

"When I first started to come to the Sue Lambert Trust, I was going through the motions of surviving.

What I had experienced was 'normal' for me – it was all I knew. I'm only now beginning to think 'that's not right', to think in a different way and know it's not my fault, that I deserve respect and I can put up boundaries.

Coming here, it's regular, you get to see the same person, to talk without being pushed or judged. It's so peaceful, and the caring comes out of the walls. It's the people who make the difference.

You get to grow with your counsellor. When I came here I didn't trust anyone. But I trust in my counsellor and I believe what she says. Without someone as caring as her, I don't know where I'd be.

I'm a much stronger person than when I first came here."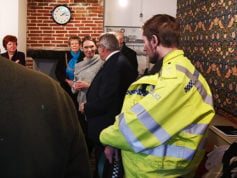 PCC Lorne Green said: "Alongside a number of high profile cases and an unprecedented increase in reports to police of recent and historic abuse both nationally and closer to home, demand for sexual abuse survivor support services has increased exponentially in recent years.
"The crimes these people have experienced are heinous and, having found the courage and confidence to speak up about what has happened to them, we owe it to them to ensure the specialist services they need are available.
"As the only Norfolk-based provider of specialist comprehensive support for survivors, the Sue Lambert Trust's services have been placed under great pressure as they have worked to cope with increasing calls for support.
"I am honoured to have been invited to open the new support centre which will improve access for people in Great Yarmouth and the surrounding area to the first-class support services delivered by Sue Lambert Trust's dedicated staff and volunteers."
Sue Lambert Trust Chief Executive Mette Ohrvik, said: "We are so pleased that so many people have been able to join us today to celebrate the opening of our new building in Great Yarmouth, and very proud to have Lorne Green here to officiate for us.
"Lorne Green and his team have given us massive support over the years, both financially and in terms of raising our profile and supporting us to deliver more than ever before. We are very excited to be able to expand and improve our services in Great Yarmouth now, and look forward to being able to provide our much needed services to more people here."
The official opening of the building, which has been restored by the Great Yarmouth Preservation Fund with capital costs funded through the Geoffrey Watling Charity, Bernard Sunley Fund, Clothworkers' Foundation and ongoing lease and running costs funded by Big Lottery Fund, was attended by Sue Lambert Trust staff, volunteers and trustees, as well as the Mayor of Great Yarmouth.
On top of an annual grant of £75,000 for 2016/17, Norfolk's PCC provided the Sue Lambert Trust with an additional £23,000 so more volunteer counsellors could be recruited and trained and its operating hours extended in a bid to reduce the size of the waiting list for support. For 2017/18, the PCC provided an extra £80,000 on top of the annual grant to further increase the number of trained volunteers, extend the number of client sessions available each week and ensure there is a particular focus on responding to the needs of the Sue Lambert Trust's most vulnerable clients.
Police and Crime Commissioners are responsible for commissioning victim support services in their police force area, and Norfolk's PCC receives dedicated funding from the Ministry of Justice for that purpose.