PCC praises choir which supports those affected by domestic abuse
Norfolk's Police and Crime Commissioner met with members of a very special choir to hear how a charity which supports people affected by domestic abuse, has helped turn their lives around.
The Daisy Programme launched its survivors Choir of HOPE (Happiness, Optimism, Positivity, Energy) in a bid to help people who have experienced such abuse by boosting their self-confidence and mental well-being as well as encouraging, in many cases, friendships for life.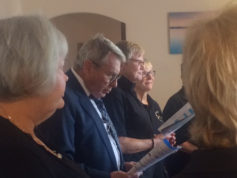 PCC Lorne Green, visited the charity's Hub in Watton today, Wednesday 30 October, to hear first-hand the importance of such a crucial support mechanism. The choir is made up of survivors as well as women who have not experienced domestic abuse but who are keen to lend their support to Daisy or who want to boost their self-esteem.
"As well as being given vital practical support it is so important that survivors of domestic abuse are given a voice to speak about their experiences and to help others see they are not alone," said Lorne.
"The Daisy Programme have come up with an amazing way of giving a voice to those whose lives have been in some way touched by this wicked crime.
"Hearing these ladies sing songs which mean so much to them and seeing the joy and tears in their eyes was a very humble experience for me.
"We must do all we can to continue to give a voice to the men and women in our county who have been or continue to be affected by domestic abuse whether physical or emotional and for that reason I am delighted my office continues to support Daisy.
"Every survivor of domestic abuse in Norfolk should be able to get the support they need-first to be safe, then to recover."
The Office of the Police and Crime Commissioner (OPCCN) awarded the Daisy Programme £20,000 to enable the appointment of two part-time staff to further develop and sustain its service in the Breckland area of Norfolk.
Daisy's Project Manager Leigh Taylor, said: "Recovery from Domestic Abuse does not happen overnight when the relationship has ended.
"We had a client come to us the other day who recognised they needed support four years after the relationship had finished.
"This is why, as the dedicated domestic abuse charity for Breckland, we look at the bigger picture.
"When all the life and confidence has been sucked out of you our holistic trauma informed approach has had some amazing results, from clients getting back into the workplace, or working as volunteers within our own organisation and finding themselves able to achieve where they believed they never would again."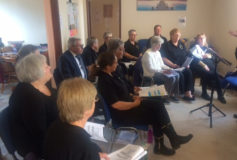 Jo Jacklin, Project Officer and Choir Leader, added: "Since the Choir was set up in September 2017 it has been humbling to see the ladies grow in their confidence and self-worth.
"The choir has brought friendship, camaraderie and a feeling of belonging."
"Singing is well known to improve mental health and well-being, and it has been evident in seeing the ladies flourish and perform together, more recently taking them out of their comfort zone by performing with Marham Military Wives Choir with resounding success."
Daisy is a registered charity supporting men and women living with or who have been affected by domestic abuse. As well as contacting the service direct, clients can be referred to Daisy from other agencies including GPs and Children's Services.
Daisy works with clients aged 16 and above and who are assessed as standard risk. It offers free support and help through a variety of platforms including its 12-week Freedom Programme which helps clients understand the tactics abusers use and how to break the cycle, 'My Confidence' courses, one-to-ones and drop-in support groups for survivors.
The aim is, through support, survivors will gain control of their lives by improving their confidence and self-esteem which will in turn enable them to make positive life choices for the future.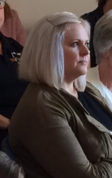 Christina's Story:
Christina first heard about the Daisy Programme around five years ago and has never looked back, here she tells her story.
"I came as a client, I was very much like a rabbit in headlights, a shell of who I am today, because of being in an abusive relationship. I suffered all forms of abuse. Since Daisy, I can honestly say, without their support and education I would not understand what abuse meant and how prevalent it is in our communities.
"When you are in an abusive relationship you don't have a choice, you are powerless and Daisy gave me back a bit of my power. Abuse doesn't end once you leave the relationship and Daisy is a lifeline after people come out of their relationships."
Christina now volunteers for Daisy helping educate clients on how to make informed decisions about the abuse they have or still suffer.
For more information on the Daisy Programme visit its website at:
www.daisyprogramme.org.uk
or email
help@daisyprogramme.org.uk
.
The National Domestic Violence Helpline can be contacted 24hrs on 0808 2000 247.If you, or anyone else, is at immediate risk of harm, phone the police on 999.