PCC speaks at candlelight vigil in support of Hate Crime Awareness Week
Norfolk's Police and Crime Commissioner Lorne Green joined partners and members of the public at a special candlelight vigil yesterday evening to remember those who have been affected by hate crime in the county.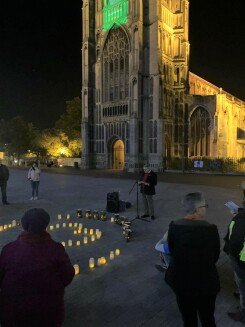 The #LoveNotHate vigil took place outside The Forum in Norwich as part of the national Hate Crime Awareness Week which began on Saturday 12 October.
Dozens of people took part in the event which was organised by
Norfolk and Suffolk Victim Care
,
Norfolk and Waveney Mind
and Norfolk Constabulary.
Speaking at the event, Lorne said: "It is easy to hate and it is difficult to love. This is how the whole scheme of things works. All good things are difficult to achieve; and bad things are very easy to get.
"Hate is such an ugly word. Let's take a moment to dissect it:
H could be understood as hurtful – someone, because of their prejudice, can cause distress to another person.
A could be understood as antagonistic – showing hostility towards another because of a perceived difference.
T could be understood as tension – acting in a hateful manner creates tension between individuals or groups.
E could be understood as exclusion – which is how people who experience hate crime feel as a result.
Love on the other hand, is a far more satisfying word:
L could be understood as live and let live – if we embrace the differences between us it enriches our society.
O could be understood as openness – and an open mindset is one that can learn from those around it and grow
V could be understood as value – every person deserves to be treated with respect and esteem, to be valued.
E could be understood as engagement – because engagement in community activity makes communities grow stronger. We need to make sure that we all engage in our communities and that we encourage others to similarly engage.
"I have decided to stick with love. Hate is too great a burden to bear." (Martin Luther King, Jr.)
Sadly, we know all too well that not everyone lives by this principle. I am proud to have commissioned a service – Norfolk and Suffolk Victim Care – that is there for those who experience hate crime, providing practical help and emotional support.
Dear friends, "No one is born hating another person because of the colour of his or her skin, or background, or religion. People must learn to hate, and if they can learn to hate, they can be taught to love, for love comes more naturally to the human heart than its opposite." (Nelson Mandela)"

Hate Crime Awareness Week takes place in October every year and aims to bring people together to say #NO2HATE. For more information visit
https://nationalhcaw.uk/.