PCC supported programme for young people tackles key issues in Norfolk
A new partnership project has been launched by Norwich City Community Sports Foundation in a bid to help boost the resilience of young people at risk of child criminal exploitation or in need of a clearer direction in life.

''Positive Futures'' has come to fruition thanks to support from the Premier League and Professional Footballer's Association, the Office of the Police and Crime Commissioner for Norfolk (OPCCN), and Norfolk County Council Children's Services, and is divided into two strands – 'Protect' and 'Prepare'.

'Protect' is a preventative programme aimed at 11 to 13-year-olds who show signs of risk such as persistent absence from school, difficult personal relationships, a significant decline in school results or concerns their emotional well-being.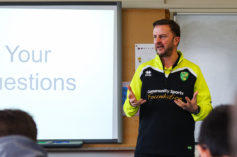 Young people take part in workshops across the 12-week programme within their school or, where appropriate, benefit from 1-to-1 support available from the Foundation's full-time Protect Officer. (Pictured Left: Protect Officer Stuart Bailey)

The project also offers support through access to residential experiences and intervention at The Nest – the Foundation's Community Hub in Horford – for those who may need help outside the classroom environment.

Asa Saunders, Schools Programme Manager from the Community Sports Foundation said: "Our aim is that the young people on the Protect programme develop their skills and knowledge and become more aware of the risks of criminal exploitation they may face.

"The programme's goals include improving behaviour in schools, leading to better attendance and attainment and encouraging positive relationships between young people and their parents, carers or teachers while raising their aspirations for the future."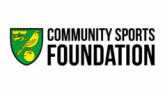 'Prepare' offers targeted intervention for pupils in Year 10 whose emotional resilience and self-esteem may have been affected by anxiety and stress at a crucial time in their lives.

Similarly, it is delivered over 12 weeks in school with 1-to-1 support, and through residential experiences, however workshops cover time-management and dealing with stress and anxiety, in order to give attendees the skills and support to cope in stressful periods.

The OPCCN has released £25,000 worth of funding for the two-year pilot project, alongside £25,000 from Norfolk County Council Children's Services. The funding has unlocked £250,000 of further support for the project from the Premier League/PFA.

Police and Crime Commissioner Lorne Green, said: "Positive Futures is one of a number of initiatives my office has funded and been working tirelessly on in a bid to tackle child criminal exploitation and the scourge that is County Lines in Norfolk.

"We are delighted to be able to fund such a worthy project. It is only by working in partnership that we can continue to make a difference.

"It is imperative young people are given the right tools, skills and knowledge to allow them to make informed decisions in life. Addressing the mental well-being of young people is also vital in helping them thrive and hopefully move towards more positive futures."







Cllr John Fisher, Cabinet member for Children's Services at Norfolk County Council, added, "This programme is about pooling our expertise to help our young people to build their own emotional resilience and protect those who are at risk. We want a positive future for every child in Norfolk and we are keen to work others who have the same ambition."

Each strand is being delivered in three schools initially with additional provision for a flexible cohort who are known to one of the county's Early Help Hubs, Norfolk Youth Offending Team, Detached Youth Workers, Safer Schools Officers or those working with voluntary community services.