Rural crime remains key priority for PCC
Rural crime was top of the agenda at a special training session for police control room staff attended by Norfolk's Police and Crime Commissioner earlier this week.
The day-long event was held at Sea Mere estate, Hingham, with an aim to refresh their knowledge about all aspects of countryside crime including hare coursing and illegal badger baiting.
PCC Lorne Green popped along to the afternoon session to meet with the latest team of Norfolk Police's Contact and Control Room (CCR) staff taking part in the course led by local gamekeeper Rory Hart.
Commenting on the event which took place on Wednesday, Lorne said: "It was a real pleasure to spend time with the team of dedicated control room staff and to witness first-hand the training they receive in an area which I see as a key priority."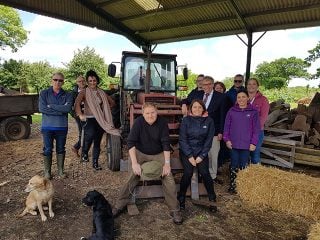 Control room staff take part in regular training sessions to ensure they have the correct expertise needed to advise officers or members of the public contacting the CCR.
Other aspects of rural crime covered in the sessions include hunting and poaching laws and illegal trapping.
Superintendent Malc Cooke, Head of the Norfolk CCR, said: "Control room staff will most likely be the first contact point for our rural community when they want to discuss policing issues.
"In order to improve the service we provide, and to make sure we better capture the information officers need us to, we felt it important to give all our staff the chance to take part in the training, and I know our staff got a lot out of the day."
The PCC added: "A year ago I was campaigning to be PCC for Norfolk and, in that campaign, I pledged to support rural communities by listening to and responding to the needs of people in the countryside," added Lorne.
"There are some crime types which are more prevalent in rural areas and bring unique challenges for policing – farm and agricultural crime, for example, or hunting and game sports – but for many rural residents their concerns are not that different from those of residents anywhere else in the county.
"It is reassuring to know such crucial training takes place within the Constabulary to address such areas of concern to the local community."