Rural crime under spotlight at PCC-led event in Snetterton
Residents in the Breckland area of Norfolk are being invited to have their say on rural crime at a special meeting hosted by Norfolk's Police and Crime Commissioner next week.
The 'Barnstorming', event due to take place in Snetterton on Tuesday, will give members of the public the chance to question PCC Lorne Green and a panel of experts about all aspects of rural crime.
It will be the second time the PCC has hosted such an event - illegal metal detecting, online scamming and speeding were just a few of the topics raised by more than 50 residents at the last event in West Norfolk – and Lorne hopes there will be an equally positive turnout in Snetterton.
"When I campaigned to be PCC for Norfolk I pledged to support rural communities by listening to and responding to the needs of people in the countryside," said Lorne.
"We had an excellent response from the West Norfolk community at the last event in May and I hope as many residents and members of the local farming community as possible will attend the Snetterton meeting.
"The aim of the Barnstorming event is to give people who live and work in the rural community the opportunity to find out more about what our police are doing to address their concerns about police visibility, to tackle feelings of isolation, help them feel more engaged with their police service, and encourage the reporting of rural crime.
"It is also an opportunity for the local community to learn more about what I have been doing over the last twelve months, in partnership with Norfolk Constabulary, to combat the issues that are affecting them and their communities."
The Barnstorming event is one of a number of initiatives Lorne has introduced in his role as Norfolk's PCC to address rural crime.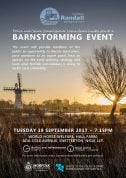 Once elected to office Lorne set about fulfilling his pledge to tackle rural crime by joining the
National Rural Crime Network
, holding engagement events and commissioned Norfolk Constabulary to develop a new
Rural Policing Strategy
to respond even more effectively to crimes that are unique to and take place in rural communities.
In autumn 2016 Lorne hosted a Rural Crime Summit where, alongside PCCs for Suffolk, Cambridgeshire and Lincolnshire, he signed a Rural Crime Concordat pledging to work across county borders to tackle the crime issues affecting rural communities.
'Supporting Rural Communities' is also a key priority in the PCC's
Police and Crime Plan
.
Sergeant Mark Askham, of Norfolk Constabulary's Community Safety and Citizens in Policing Command, added: "The rural geography of Norfolk presents the police a unique set of challenges which require a partnership approach to preventing and detecting crime and making our communities feel safer.
"We have invested in technology such as Automatic Number Plate Recognition (ANPR) cameras and police drones. We have created a dedicated Rural Crime Task Force who are able to provide bespoke support to rural communities.
"The Barnstorming event is an opportunity to provide a voice to rural communities and it is through engagement opportunities such as this which help shape and inform our overall policing response to rural crime."
The event is due to take place at
World Horse Welfare, Hall Farm, Ada Cole Avenue, Snetterton (NR16 2LP) between 7.30pm and 9pm on
Tuesday 19 September
.
Refreshments will be served at 7.15pm. For more information email:
OperationRandall@norfolk.pnn.police.uk.