Support service for victims of crime still there to help
As organisations across Norfolk adapt the way they work to ensure their services remain available to the county's residents, a vital support service for victims of crime is sending the message that its team is still very much there for those who need its help and advice.

If you, or someone you know has been affected by crime, help is available from Norfolk and Suffolk Victim Care – a service commissioned by Norfolk's Police and Crime Commissioner (PCC) and run by Victim Support, to provide free, confidential support to victims and witnesses of crime.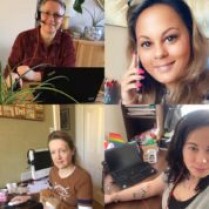 The service assesses the individual needs of each victim, to enable its staff and volunteers to tailor the support they offer to that person. Where appropriate, that support will include helping victims access specialist support provided by other organisations.

From arson, criminal damage and burglary, to domestic abuse, sexual and other violent offences, the service provides an opportunity for people to safely and confidentially talk through their thoughts and feelings.

It gives them the chance to ask questions, as well as offering help with practical issues such as putting in place individual safety plans, providing victims with personal alarms, assisting them with writing a Victim Personal Statement and advocating on their behalf with other agencies.

Norfolk PCC Lorne Green said: "Whatever you need, Norfolk and Suffolk Victim Care is there for you if you are or have been a victim of crime.

"In response to the current Covid-19 restrictions, the team has moved to remote working, ensuring they can continue to support those who need their help and support while, very importantly, keeping themselves safe."

Tracey Woolf, Service and Engagement Lead for Norfolk and Suffolk Victim Care said: "Our team has quickly adapted to working from home. We are used to working remotely and able to find ways of working to ensure that clients stay safe and are offered the support they need.

"We are all in regular contact with each other as a team throughout each day, enabling us to continue to offer the much needed and valued support service to victims of crime across Norfolk and Suffolk.

"If you need us, you can get in touch with us via telephone and via the online referral form on the Norfolk and Suffolk Victim Care website."

Victims do not have to report the crime to the police to access support, but service staff can help victims make a report if they wish, and will guide them through the criminal justice process, from first steps right through to the end of the trial.

Phone lines are open weekdays between 8am and 5pm on 0300 303 3706. Outside of these hours, contact Victim Support's 24-hour helpline on 0808 168 9111. Contact can also be made via email to nsvictimcare@victimsupport.org.uk or by visiting www.nsvictimcare.org.