Thetford youngsters encouraged to become 'graffiti artists'

Young people from across Thetford became artists for the afternoon as part of an initiative launched by Police and Crime Commissioner (PCC) Lorne Green.
For the past few months students from Thetford Academy and Catch22 have teamed up with Norfolk Youth Offending Team (YOT) and Thetford Police Cadets to create a colourful series of graffiti artwork.
And on Saturday 11 March eight eye-catching panels created by the group of around 20 12 to 18-year-olds were unveiled in the underpass close to Thetford Priory.
The team were joined by other youngsters from across the town who were given the opportunity to have a go themselves guided by local graffiti artist Mik Richardson.
Lorne Green, who attended the event, said: "One of the concerns expressed to me on one of my early visits to Thetford was the amount of graffiti that was blighting a market town of outstanding beauty.
"By working with their policing team, and graffiti artist Mik Richardson, the local community has been empowered to turn something perceived as negative and destructive into something of which they can be proud.
"It was an absolute pleasure to witness the official unveiling of the graffiti artwork in Thetford. It's the result of young people's creativity and passion for their local environment - taking pride in where they live and communicating what they think and want to say about Thetford through art.
"The added bonus was seeing so many Thetford residents turning up to support the project and even creating their own artwork. This project is only the end of a beginning – I will continue to work with the community and its excellent policing team to keep people safe and help them feel safe."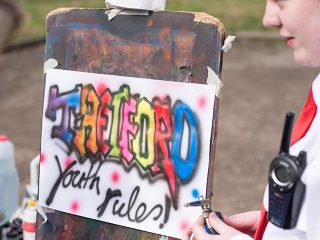 Acting Inspector Laura Symonds, of Norfolk Constabulary, who has led the project, added: "The young people have enthusiastically created some amazing artwork symbolising what is important to them in Thetford, with assistance from a number of multi agencies.
"These will brighten up a space which has previously suffered from graffiti in the hope that the young people of Thetford will look after their local area so similar creative projects can be pursued in the future."
The initiative is one of a number of community policing projects being supported through the Police and Crime Commissioner's Early Intervention Fund. The fund is open to policing teams across the county to help them work with communities to tackle local crime, disorder and community safety issues.
Tracey Sawyer, Catch 22 Project manager, said: "Catch 22 Study Programme in Thetford were happy to be a part of the project and were happy to provide a venue for completing the boards. The young people have done an amazing job and it was a successful collaboration with Laura Symonds of Norfolk Constabulary. The project has encouraged and promoted the positive and creative side of the young people of Thetford."
Stuart Coote, a reparation worker with Norfolk YOT, added: "We always try to work restoratively with young people and develop skills to support them in the future. This project has been brilliant and has given some of the young people we work with an opportunity to give something back, by making a positive difference within their community and has been so successful that we intend to integrate it into our ongoing reparation work in both Thetford and King's Lynn."
Jack Gilmore, Thetford Police Cadet, added: "The graffiti project has been simply great! It has shown me that you do not need to be a fantastic artist to do what we have done. This project should become bigger and happen more often in more places as vandalism is a big problem all over the UK."