VR goggles make an #Impact at Royal Norfolk Show
The wet and overcast weather failed to keep the crowds away from the Emergency Services Village at the Royal Norfolk Show this week.
More than 200 young drivers or learner drivers visited the village – which scooped the Best Trade Stand Award - over the two days to try out the VR goggles which aim to educate young people about road safety.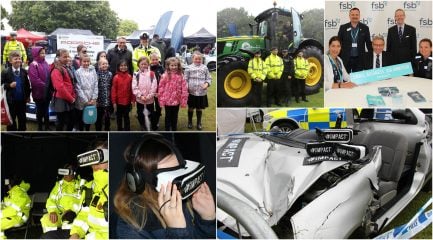 The Samsung Gear headsets take the user through a 360° simulated car crash experience highlighting the results of being distracted at the wheel while using a mobile phone.
Tiffany, 19, from South Norfolk who visited the stand on Wednesday and who has been involved in a car accident herself as a passenger, said: "I wasn't driving at the time but it took me three months to get into the car to start my driving lessons again.
"If you shut your eyes you can still see the accident. I don't think it will ever leave me.
"I think the VR experience will help people who have never been through it. It was unbelievable, everything was the same."
Jack Warman, 22 from Attleborough, said: "It was quite shocking. The technology is a really good way of getting the message across. It seemed very realistic."
The goggles were introduced in partnership with Norfolk Fire and Rescue Service (NFRS) as part of Lorne Green's
#Impact initiative
and his commitment to deploy 21
st
century technology to policing in Norfolk.
After trying the goggles Charles Hart, 18, from King's Lynn, said: "It was very informative. I didn't realise how long you would be in the car after a crash. It's a great idea."
Rebecca Clements, 18, from Glasgow who is currently taking driving lessons, added: "It was much better than just watching a video, more realistic. It was much worse than I thought it would be. It is good to make people aware the emergency services are there for them."
Jenn Maycock and Will Revell from Happisburgh and Mundesley HM Coastguard tried the sets alongside colleague Kevin Woodcock from Gorleston Coastguard.
Kevin, said: "It was brilliant. If people don't learn from something like that I don't know what they will learn from."
As well as launching the VR Goggles Lorne attended the
Federation of Small Businesses (FSB)
stand where he held a police surgery alongside Inspector Vicky Hebborn. Lorne also met with FSB National Chairman Mike Cherry and colleagues.
Lorne also visited the
Veterans Norfolk
tent and met children from
Howard Junior School
in King's Lynn who toured the Emergency Services Village with their headteacher Gregory Hill.