Knife crime under the spotlight at PCC-funded event
An innovative project to educate young people about the dangers of knife crime is set to run in Norfolk for a second time thanks to funding from the county's Police and Crime Commissioner (PCC) Lorne Green.
The StreetDoctors initiative will be returning to the county this week targeting young people from across Norfolk.
The scheme was first delivered in the Great Yarmouth area in March 2017 and proved a great success with lots of
positive feedback from young people
attending.
PCC Lorne Green, said: "Knife crime and its impact on young people is constantly in the news headlines. It is vital we do not shy away from tackling this issue.
"I am delighted to have been able to bring this innovative project back to our region.
"It's crucial we educate our young people about the dangers of knife crime – whether as a victim or an offender. Where knife crime is concerned it is clear the consequences for all involved can be severe.
"If the sessions help just one youngster to think twice about carrying a knife they will have been worthwhile."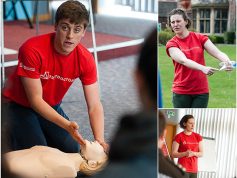 The latest sessions come shortly after national statistics showed a significant fall in the number of knife offences in the county.
Figures released in October by the
Office for National Statistics (ONS)
show there were 335 offences involving a knife recorded in Norfolk in the year ending June 2017 compared to 230 in the year ending June 2018 – a 31% fall.
Norfolk is the only county where the project, supported locally by the Norfolk Youth Offending Team, has been delivered in East Anglia.
Delivered by registered charity
StreetDoctors
, the scheme provides those taking part with education and advice, with the aim of changing attitudes towards violence and helping them take responsibility for their own actions.
As part of his commitment to preventing offending and reducing vulnerability, the PCC has backed the Norfolk Constabulary-led project which sees teenagers given life-saving first aid training.
Around 120 young people are set to take part in the latest sessions on Friday and Saturday (9/10 November) due to be held at the Phoenix Centre in Mile Cross, Norwich.
Chief Inspector Nathan Clark of Norfolk Constabulary, said: "Knife crime and associated violence is something we take extremely seriously and we're committed to working with partners to reduce offences.
"It's a sad fact that many people involved in this type of criminality carry knives to intimidate others or believing it offers them some form of protection.
"Enforcement alone is not enough. Awareness and education is crucial in preventing young people getting involved in this type of criminality in the first place and these sessions are aimed at some of the most vulnerable in our communities.
"The previous sessions were really successful. It was clear to see the talks given by the doctors really struck a chord with those attending, helping them understand the devastating and even fatal consequences using knives can have."
Emma Ridings, Joint Medical Director of StreetDoctors, said: "It is fantastic to be back working with the young people of Norwich. This is an incredible opportunity for us to reach more young people outside of our usual geographical limit and teach them the medical consequences of violence.
"Our experienced healthcare volunteers will be travelling from around the country to attend this event, and support the delivery of workshops aimed to challenge attitudes towards violence and equip young people with the skills, knowledge and confidence to act in a medical emergency."
Officers from the Department for Work and Pensions (DWP) will also be attending the sessions to talk to young people about potential career prospects.