And we have lift-off…Police drones piloted in Norfolk
You may spot drones in the skies over Norfolk in the coming months as police run a three-month trial.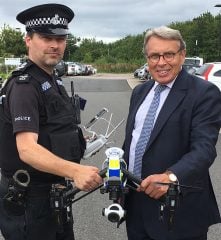 Norfolk's Police and Crime Commissioner, Lorne Green, has welcomed the trial of two drones by the Constabulary saying: "For our police to be as efficient and effective as possible, it's vital they have the right tools. To tackle the crime affecting our communities in the 21
st
century, we need to look at the 21
st
century technology available to us. For some time now I have been calling on Norfolk Police to explore the potential that drones offer."
Drone pilots must be Civil Aviation Authority (CAA) accredited and Norfolk Police currently has four qualified pilots. Sergeant Danny Leach, who was the first pilot to be trained, said: "Every incident which requires air support currently costs the Constabulary £1,320. Although the drones aren't suitable for every deployment there are certain situations which they are perfect for.
"To get the project operational it has cost less than £8,000. If we can successfully deploy to just six incidents we would have saved enough money to pay for them again."
The drone units which cost £1,500 (Inspire) and £850 (Mavic) can fly in winds up to 50mph and have already been used for industrial and firearms incidents, forensic photography, searches and pre-planned operations. With a 4K downlink, officers can see live footage captured by the drones while they are in the air.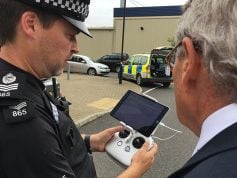 Deputy Chief Constable Nick Dean said: "Drones offer many benefits that complement the National Police Air Service (NPAS) helicopter. This technology offers a highly cost-effective approach to help assist our officers. While the technology still has its limitations, the option of launching a drone in the air in a few minutes could help save lives and secure evidence if a crime was in progress.
"The drones will now be available to assist officers across the county and, while we're a long way off drones becoming standard kit in a police car, the early indications are they will be a positive contribution to the policing of Norfolk."
PCC Lorne Green added: "It's early days but I'm pleased to see the trial is showing signs there are benefits for the Force in the use of drones. I'll be following the pilot with interest as it continues."