Children at risk of sexual exploitation to receive vital support
Children at risk of sexual exploitation are to benefit from an improved service after Norfolk's Police and Crime Commissioner and Norfolk County Council invested £360,000 to fund specialist support.
The three year project, known as The Rose Partnership, will see
The Magdalene Group
and children's charity
Barnardo's
work with children and young people who go missing and those who are at risk of sexual exploitation.
PCC Lorne Green is investing £90,000 while Norfolk County Council will invest £270,000 towards the costs of service.
The funding will see the Magdalene Group providing a befriending service to those at risk of child sexual exploitation as well as teaming together with Barnardo's to provide return home interviews to children who go missing.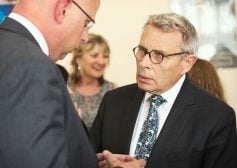 PCC Lorne Green said: "Child Sexual Exploitation is a vile and abhorrent crime, which robs children and young people of so much.
"It is crucial agencies continue to work together to ensure children are protected and provided with the vital support they need at the earliest opportunity.
"This is why I am delighted to have been able to provide £90,000 over the next three years to ensure such early intervention is available to young people who have been missing, are vulnerable and who may be at risk of exploitation.
"Together we can make a difference."
The initiative builds on the success of The Magdalene Group's Rose (Reaching Out on Sexual Exploitation) project.
Suzi Heybourne, Chief Executive of The Magdalene Group, said: "The Magdalene Group established the Rose Project through Big Lottery funds more than five years ago in response to hearing how young boys and girls were being targeted and groomed both on line and in their communities, something we now understand to be Child Sexual Exploitation.
"We are so pleased that this has grown into the Rose Partnership working with Norfolk County Council, the Police and Crime Commissioner and Barnardo's who will work together to tackle this issue and provide support to the young people affected."
Stuart Dark, Vice Chairman of the Children's Services Committee at Norfolk County Council, said: "We want Norfolk's children to have the support they need to stay safe. Sadly, there are people that want to exploit children, particularly those who are vulnerable. By working in partnership we can help to prevent this and give children the one-to-one help that they might need to understand risk, build confidence and develop healthy relationships.
"The Magdalene Group and Barnardo's have a strong track record of work in this area and this investment will enable them to support even more children and young people."
The service will be based in the
Multi-Agency Safeguarding Hub (MASH)
, which includes social care staff, police and health staff. This will ensure that the right children are referred into the service and all of the agencies can offer information and support when it is needed.
Director of Barnardo's East region, Steve Oversby, added: "We are very much looking forward to working closely with our partners in Norfolk to ensure that the county's children get the right support and advice they need, either to spot the signs of sexual exploitation or to rebuild their lives if they have been directly affected. Barnardo's has a proven track record in supporting victims of child sexual abuse, with more than 20 year experience in the field.
"We always work with hope, and believe - with the right support at the right time - victims can recover their childhoods and rebuild their lives."