OPCCN staff take-up Special opportunity to witness policing first-hand
A team of five from the Office of the Police and Crime Commissioner for Norfolk took to the streets of Norwich to witness first-hand the work of Norfolk's dedicated Special Constabulary.
Colleagues Libby Avery, Emily Kershaw, Jordan Mann, Leah Smith and Suzanne Crannage from Commissioning, Performance and Scrutiny and Media and Communications Directorates accompanied 10 volunteer officers out on public order patrol in the Prince of Wales area of the city.
The aim of the evening, last night, was for OPCCN staff to learn more about the world of policing while in turn sharing information about the work of PCC Lorne Green's own team.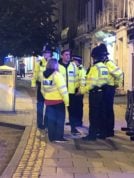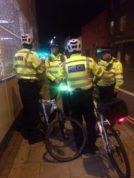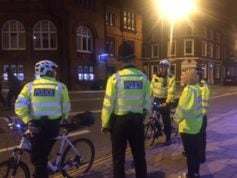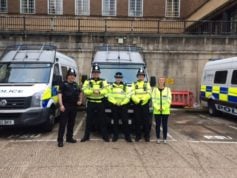 The team attended at briefing at Bethel Street Police station before heading out in two police vehicles to monitor areas across the city including Rosary Road, Mousehold, Magdalen Road and Britannia Road prior to public order duties in POW.
Jordan, Performance & Scrutiny Assistant at the OPCCN, said: 'It was good to get involved with the Specials, get an insight into why they chose to become a Special and the types of jobs they do while on duty. Overall a great evening, it was nice to meet the officers at Bethel Street."
Leah, Complaints and Compliance Officer, added: "It was great to get to know the world of the Specials while in turn sharing information about the work that we all do. I have great admiration for what they do, many of them working full times jobs before putting on a uniform to keep Norfolk safe."
Special Sgt Paul Debnam who has worked with the Special Constabulary for nine years chose to don the uniform because it was "such a different career" to his day job in IT.
"It is a brilliant job to do," said Paul who is also a shift leader in the SOS Bus in the city.
"It really helps to boost your confidence. Believe it or not before I became a Special I was timid as a mouse. I used to be nervous doing presentations at work but after doing this walking up to drug gangs and the like, it makes you more confident."
PC Catherine Charles-Farrow, who has just completed a Business Management degree at the University of East Anglia, became a Special after completing an internship with Bedfordshire Police.
"Doing the internship made me really want to go into the police," said Catherine.
"I agree with Paul is has definitely improved my confidence. It really opens your eyes and has made me realise the kinds of struggles people face in day to day life.
"We get so many opportunities whether it is attending the football, policing the Tamil Pilgrimage in Walshingham or being on duty at Sandringham at Christmas, there are so many things you can get involved in which is really good."
The OPCCN team also met with Special Chief Officer Darren Taylor during the evening and saw first-hand how successfully the Specials used bikes to cover miles across the city offering a visible policing presence and reassurance while tackling crime.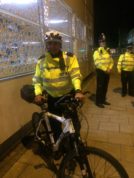 Special Constable Adam Twyman, one of the cyclists on the night, said; "The bikes really help us to move around the city much quicker than on foot or even in a vehicle as we can get to places much easier.
"I used to be involved in football coaching but decided to become a Special as it is more of an interesting career path."
The county currently has some 196 Special Constables, who regularly give up their spare time to assist regular police colleagues in the fight against crime.
The role of a Special Constable includes providing high visibility patrols and helping to police major incidents and events. They also offer vital links in the partnership between the police service and the public.
Anyone interested in becoming a special should email
bespecial@norfolk.pnn.police.uk
or
specialsrecruitment@norfolk.pnn.police.uk