PCC Annual Report reveals positive work during pandemic
The latest Annual Report published by the Office of the Police and Crime Commissioner for Norfolk (OPCCN) reveals key progress has been made against the county's Police and Crime Plan, despite the pandemic.
The report, published this week, provides an overview of progress made against the Plan between 1 April 2020 and 31 March 2021.
The publication provides updates on key projects aimed at preventing crime, reducing vulnerability and supporting victims, as well as performance information relating to the seven priority areas adopted within the Plan:
· Increasing visible policing
· Supporting rural communities
· Improving road safety
· Preventing offending
· Supporting victims and reducing vulnerability
· Delivering a modern and innovative service
· Ensuring good stewardship of taxpayers' money
The publication encompasses the work undertaken by the previous PCC for Norfolk, Lorne Green, in the last year of his term in office before Giles Orpen-Smellie was elected as the new PCC in May 2021.
It highlights how due to Covid restrictions, working practices and procedures were adjusted and changed to ensure organisations continued to deliver a public service and fulfil their roles and duties.
In his Foreword, PCC Giles Orpen-Smellie, writes: "The Covid pandemic, together with its associated lockdowns and other constraints on our lives, either dominates or at least influences  most aspects of the report.
"An early effect of the pandemic was the postponement of the PCC elections from May 2020 to May 2021. My predecessor, Lorne Green, was thus, suddenly, given an extra year in office. 
"Therefore, while I am issuing this report, the period covered spans most of Lorne's final and unexpected year in office.
"I would like to thank him for carrying on for that extra year, as his experience and judgement as PCC were invaluable to Norfolk in what was undoubtedly a very challenging time."
Despite the challenges the report shows the former PCC adjusted arrangements to ensure he could meet with the public through a series of virtual 'Question and Answer' sessions, continued to hold the Chief Constable to account by holding virtual meetings and brought together Norfolk's community safety and criminal justice partners to ensure a joined up approach.
The Independent Advisory Group (IAG) adapted the way in which it continued to act as a positive conduit, continuing to build trust, confidence and better relationships between diverse communities and Norfolk Constabulary. Members developed a new way of holding meetings, making use of virtual meeting platforms.
The Youth Commission, which allows young people to get involved and have their say about policing and crime where they live, also continued to engage to ensure that a voice for the youth was maintained during the Covid pandemic. Commissioners launched a 3-phase project to highlight the effects of the pandemic on young people.
The Annual Report also highlights the key work carried out with support services for victims and witnesses of crime in Norfolk and work undertaken to prevent offending in the county.
The police budget, monitoring how that budget is used, and holding the Chief Constable to account are also outlined alongside challenges and solutions around new officer recruitment.
Rural crime, road safety, the targeting of organised criminals involved in County Lines and challenges presented by the pandemic on the Constabulary's Contact and Control Room, are also highlighted.
PCC Giles Orpen-Smellie, added: "Now, as we enter a period of recovery, it is essential to build on what we have learned to continue to protect people from harm and guarantee both freedom and fairness in our society.
"Looking forward, I am delighted to have been elected as your PCC and to continue the excellent work done by Lorne Green and reflected in this report. I am here to serve the people of Norfolk and while I was elected under one political 'colour' I will serve all the people of Norfolk, whether they voted for me or not. It is a huge responsibility, one that I take very seriously, and one that, supported by my excellent team in the OPCCN, I will do my utmost to satisfy."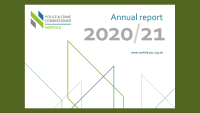 A separate annual report has been published on the work of the Independent Custody Visiting (ICV) Scheme.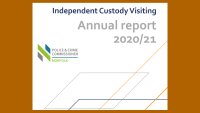 PCC Giles Orpen-Smellie launched his Police and Crime Plan consultation in July 2021. His new plan for Norfolk will be implemented in April 2022. Until this time, whilst work is ongoing, the Police and Crime Plan 2016-20, and associated priorities, set by former PCC Lorne Green remain in place.