PCC's Youth Commission helps give young people a voice during Covid-19
Members of Norfolk's Youth Commission have been working with partners across the county in a bid to help understand the impact of the pandemic on young people in Norfolk.

The Covid-19 project was launched by the Police and Crime Commissioner Lorne Green's Youth Commission (YC) on 1 May following the nationwide lockdown.

The aim of the initiative, which has been running for six weeks and has been conducted in form of a consultation, has been to discover the main concerns among children and young people during the pandemic.

PCC Lorne Green said: "The last few weeks have been a very unsettling time for young people in Norfolk whose daily routines have been turned upside, unable to see friends or loved ones and being forced to consider alternative approaches to education.

"It is essential therefore that we listen to young people and find out how the lockdown has impacted on their lives and how we can best assist them in the future, and who better to ask them than their peers.

"This is when my Youth Commission truly comes alive, young people helping young people – ensuring their voices are heard - and I would like to thank members for the time and commitment they are giving to this vital project."

The YC currently has around 50 members, 20 of whom are taking part in the three strategic project stages working with organisations across Norfolk in a bid to gain as much feedback as possible from peers.

Organisations have included Norfolk's Youth Advisory Boards (YABs), The Matthew Project, Your Own Place, The Magdalen Group, Bridge in to Community and Moore Networking which helps young people with additional support needs into apprenticeships.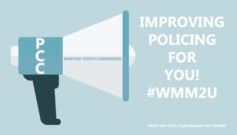 Jacqui Starling, who runs the YC, said "The main aim of the project has been to find out from young people what they really need from services, particularly the PCC's commissioned services, coming out of Covid-19.

"It is a very difficult time for young people and we have been getting lots of feedback from across Norfolk which will also help inform the Youth Commission's main aims in 2021.

"They have really embraced this project and it has been wonderful to see how engaged both they and the young people they are helping have been."

16-year-old Youth Commissioner Oscar Doughty, said: "The project has been an amazing opportunity in allowing a diverse group of young people to speak freely about their challenges and thoughts on both policing and community. I feel very lucky to be working on it and am excited to see the project develop and grow in the coming months."

Ellie Coulson, Unity Service Manager at the Matthew Project, added "Unity support some of the most vulnerable young people and their families in Norfolk with issues relating to drugs and alcohol.

"COVID19 lockdown has had a significant impact on the lives of those who access our service and who already often feel marginalised and unable to get their voices heard.

"We are thrilled to be working with the PCC Young Commissioners to give our service users the opportunity to share their experiences, thoughts and feelings about the unprecedented situation in which we find ourselves."

The YC have also been working with Norfolk Constabulary's Safer Schools Partnership to promote the consultation in weekly newsletters to secondary schools as well as help highlight and tackle issues such as cyber bullying.

Who are the Youth Commission?

Set up in 2017 by Lorne Green, the PCC's Youth Commission, which now has its own Facebook account is a diverse group of young people, aged between 13 and 25, from all over the Norfolk policing area.

By being part of the Youth Commission, its members help shape decisions about crime and policing, supporting, challenging and informing the work of the PCC.

The Youth Commission has been established to enable young people to voice their opinions and be heard. By sharing their views and experiences of crime, policing and criminal justice system, the Commission seeks to ensure local decision-makers not only understand young people's needs but are also working to meet them.

Through peer research, members take the work being done by the Commission to a wider youth audience, encouraging participation, gathering information and drawing conclusions to inform the recommendations they make to the PCC.

More information on the project can be found here>>

Any young person interested in joining the Youth Commission can contact Jacqui Starling at Lola Stafford Consulting via Jacqui@lolastaffordconsulting.co.uk