'Rising Star' Gateway to Employment apprentice sets sights on national award
An apprentice who found employment through a scheme which gives ex-offenders a second chance could win a National Apprenticeship Award next month after being crowned 'Rising Star' at a regional ceremony.
Alex Burzec, a Support Coordinator at Home Group, says her apprenticeship has completely transformed her life. Four years ago a life-changing situation ended in Alex receiving a two-year custodial sentence. A desire to learn was sparked in prison and, having gained qualifications to help her find a job on her release, the Gateway to Employment scheme found her an apprenticeship opportunity.
The scheme, launched by the Police and Crime Commissioner for Norfolk and the Department of Work and Pensions in 2015, works with local employers to secure training, apprenticeships and employment opportunities for ex-offenders; a strategy which has been shown to significantly reduce reoffending.
With 10 million people in the UK having a criminal record, Gateway to Employment opens up a new candidate pool for employers, helping them to fill skills gaps and meet staffing needs.
On a visit last year to some of the local employers taking part in the scheme, Police and Crime Commissioner Lorne Green met with Alex and heard what it meant to her to be given an apprenticeship by Home Group.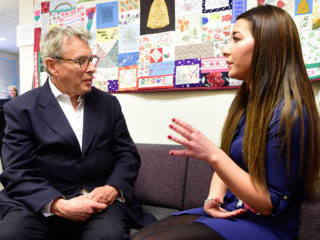 "Every day I learn something new and I am so grateful for this opportunity", she told him. "In five years, I want to have made real progress and I want to have also helped people like me. If I can change the attitude of one person then that will be a success."
Impressed by Alex's honesty, integrity and motivation, Home Group offered Alex a Level 2 apprenticeship and, through hard work, she progressed to a Level 3. Alex is now in a permanent position providing support to offenders and ex-offenders at risk of homelessness. She credits her own life experiences with giving her the strength and insight to support others.
Now she is asking for public support to help her "reach the stars". Having been crowned 'Regional Rising Star' at the Eastern Region National Apprentice Awards, Alex now has a shot at the national title. To make that happen, she needs to win the public vote.
Hearing about Alex's achievements, PCC Lorne Green said: "I'm delighted for Alex and I hope the public will read her story and back her for the national award. She is proof that a scheme like Gateway to Employment and support from local employers like Home Group can have genuine, tangible benefits for all.
"My congratulations go to Alex, and a big thank you to all the Gateway to Employment organisations playing their part in helping ex-offenders turn their backs on crime, reducing reoffending and thereby keeping our county safe."
Julia Nix, East Anglia District Manager for the Department of Work and Pensions, said: "I am delighted that we are a key stakeholder in Gateway to Employment, and I wish Alex all the success for the future."
The National Apprenticeship Awards, now in their 15th year, celebrate outstanding apprentices and employers. Votes for the Lloyds Banking Group Award for Rising Star of the Year can be cast through the National Apprenticeship Awards website until 5pm on Wednesday 17 October -
https://appawards.co.uk/
For more information on Gateway to Employment, visit
www.gtoe.co.uk
or, if you would like to find out how your organisation can sign up, contact Mary Scales at the Department of Work and Pensions via email to:
mary.scales@dwp.gsi.gov.uk