Rural crime under spotlight at PCC-led event
Rural crime will be top on the local agenda at a special meeting hosted by Norfolk's Police and Crime Commissioner next month.
The 'Barnstorming' event will give members of the public the chance to question PCC Lorne Green and a panel of experts about all aspects of rural crime.
The Commissioner will also give an update on his
Rural Policing Strategy
– launched in autumn 2016 – and discuss what Norfolk Constabulary is continuing to do to tackle the issue.
Mr Green hosted a Rural Crime Summit in November 2016 where, alongside PCCs for Suffolk, Cambridgeshire and Lincolnshire, he signed a Rural Crime Concordat pledging to work across county borders to tackle the crime issues affecting rural communities.
"People in Norfolk have told me about their crime and policing concerns and what they feel they needed from the police to feel safer living or working in their local area," said the PCC.
"I have pledged to take up their concerns and drive forward Norfolk's approach to tackling rural crime.
"The aim of the Barnstorming event is to give people who live and work in the rural community the opportunity to find out more about what our police are doing to address their concerns about police visibility, to tackle feelings of isolation, help them feel more engaged with their police service, and encourage the reporting of rural crime."
'Supporting Rural Communities' is also a key priority in the PCC's recently published
Police and Crime Plan
.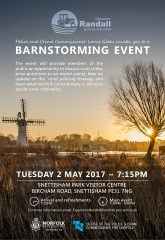 Acting Inspector Mark Askham of Norfolk Constabulary's Community Safety and Citizens in Policing Command, added: "The rural geography of Norfolk presents the police a set of challenges which require a partnership approach to preventing and detecting crime and making our communities feel safer.
"We have invested in technology such as Automatic Number Plate Recognition (ANPR) cameras, created a dedicated Rural Crime Task Force and continued to build stronger community relationships. The Barnstorming event is an opportunity to provide a voice to rural communities which will in turn help shape our policing response.
The event is due to take place at
Snettisham Park Visitor Centre, Bircham Road, Snettisham (PE31 7NG) between 7.30pm and 9pm on Tuesday 2 May
. Refreshments will be served at 7.15pm. For more information email: OperationRandall@norfolk.pnn.police.uk.