Victims and survivors of domestic abuse take part in live Q&A event
Partners from across the county, including the Office of the Police and Crime Commissioner for Norfolk (OPCCN), joined forces to take part in a special live online Q&A event in a bid to help victims and survivors of domestic abuse.

The event held last week, brought together respesentatives from across the police, children's services, adult safeguarding, health, housing and the domestic abuse charity sector in Norfolk.

Representatives spoke directly with members of the public, with more than 30 questions asked around a wide-range of issues, from those concerned about abusive partners and gaslighting to where to seek help for violent partners and how to stay safe.

Lorne Green, Police and Crime Commissioner for Norfolk, said: "It is really encouraging to hear we have received so much positive feedback from partners involved in the Q&A. However, what is more encouraging is the number of questions raised which allowed the expert panel to give crucial, very succinct advice and sign-posting.

"It is important that we continue to use all the tools we have at hand to tackle domestic abuse. If this event has helped just one person see the light at the end of the tunnel, it will have been worthwhile. Those who need help need to know they have not been forgotten, help is available and we are here to support you."

The panel of experts also responded to questions on mental health, family contact issues, housing, multi-agency responses to safeguarding issues and reporting around the safety of a child and were pleased to receive thanks for raising the issues from a survivor.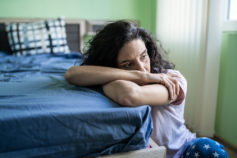 Detective Inspector Alix Wright, from Norfolk Constabulary Domestic Abuse and Safeguarding, said: "We are pleased with the response and believe this is a useful way to communicate directly with the public and get the message out that domestic abuse will not be tolerated and for victims to be able to seek help.

"We had a good range of responses and were particularly encouraged that people were asking directly about the help and support available in Norfolk across all our partners."

Mandy Proctor, Chief Executive of domestic abuse charity Leeway, said: "It was great to take part in the online Q&A, which provided an opportunity to give some advice to those experiencing domestic abuse, as well as highlighting the services that Leeway provides. This is an especially difficult time for those living with domestic abuse, so it is important that the multi-agency partnership reassures people that they are not alone and that support is available.

"We felt that the Q&A worked well and we hope that this is something that is repeated and explored further in the future."

All organisations want to provide reassurance for those who are vulnerable in lockdown that they are not alone and there is still help available, whatever their challenges may be.

More people are in their homes due to the lockdown with access to the internet so the Q&A was a way for people to communicate directly with experts online.

Walter Lloyd Smith, Norfolk Safeguarding Adults Board Manager, Norfolk County Council Adult Social Services, said: "Building on the success of this first live online Q&A sessions on domestic abuse for Norfolk I hope more sessions will follow.

"The Norfolk Safeguarding Adults Board was very pleased to support this new initiative as another way to make information available to the public. To give a message that those living with domestic abuse are not alone and there is support and help available."

Lisa Grice, Housing Options Manager North Norfolk District Council on behalf all District Councils in Norfolk, added: "It was a privilege to be involved in this multi-agency venture, supporting and highlighting the issues around Domestic Abuse and delivering the message that no one is alone and there is help available."

Gary Woodward, Adult Safeguarding Lead Nurse said that the Norfolk and Waveney Clinical Commissioning Group, is committed to a multi-agency effort to prevent and effectively respond to domestic abuse and work with both victims and perpetrators.

"We were proud to be involved with this innovative approach and will continue to work with all those that provide health services to ensure the best possible outcome for people affected by this blight on society."

Claire Scholes, Manager of The Harbour Centre Sexual Assault Referral Centre (SARC) Norfolk Police / NHS England, said that they were pleased to be part of the partnership work and get a chance to speak directly to the public about the services available during the pandemic.

Paul Finon, Head of Service for Intensive and Specialist support at Norfolk County Council Children's Services, said: "Norfolk County Council Children's Service are really pleased to have been part of this vital multi-agency domestic abuse initiative to raise awareness and provide information that benefits children and parents in Norfolk."

If you need to speak to someone about domestic abuse then please call 999 in an emergency or to make a report to police, call 101.
Silent Solution
The Silent Solution system helps filter out accidental or hoax 999 calls from those who need genuine police assistance.
If you are calling from a mobile phone and speaking or making an immediate sound would put you in danger and you need immediate help, call 999 and stay on the line, then press 55 when prompted and the call will be transferred to the police, who will know it is an emergency call.
If you are calling from a landline, Silent Solution does not apply as it is less likely to call 999 by accident. If an emergency call is made and no one speaks and only background noise is heard and an operator does not know whether an emergency service is needed, you will be connected to a police call handler.
Information about where you are calling from on a landline will be automatically available to call handlers to help provide a police response.

Visit the OPCCN web page here>> for more information on help numbers for organisations and charities that can offer tailored DA support or visit the Norfolk Police or Norfolk County Council websites for more information.