Voices of young people being "heard and heeded"
Some 100 young people have already had their say on how to shape policing in the county thanks to a successful summer by members of Norfolk's Youth Commission.

The Commission enables young people aged 14-25 years to support, challenge and inform the work of the county's Police and Crime Commissioner (PCC) Lorne Green.

Norfolk's YC, launched by the PCC in May 2017, is the eighth in the country with Commissions already having been established in Sussex, Hampshire, North Yorkshire, Leicestershire, Nottinghamshire, Cheshire and Staffordshire.

The team of 26 young people from across the county who act as an advisory team for their PCC, have begun touring the county to engage with other young people about what matters most to them through the 'Big Conversation.'

The Norfolk Youth Commission gained really positive feedback at the Sundown Festival at the Norfolk Showground on Friday 1 September where its members joined Hannah Gardiner, Norfolk Constabulary's Engagement Officer for the Great Yarmouth area, alongside a group of police cadets to gather responses from festival goers.

An equally successful day was had at the event on Sunday 3 September where more YC members spoke to even more young people. Some 75 responses were gathered from festival goers over the two days.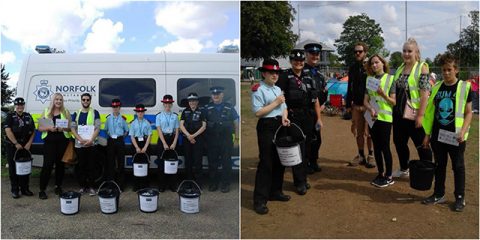 On Wednesday this week YC members also ran a stand at Easton and Otley College in Norwich and spoke with around 25 young people.

Norfolk Police and Crime Commissioner Lorne Green, said: "It is wonderful to see our team of Youth Commissioners have had such a successful summer and made a fantastic start to the 'Big Conversation' by consulting so many young people on their views and priorities of policing in Norfolk.

"The voices of Norfolk's young people are being heard and heeded in my office as we work together for a safer Norfolk."