PCC joins walk to highlight need to end violence against women and girls
Norfolk's Police and Crime Commissioner (PCC) joined members of a Norwich-based charity on a special walk through the city to raise awareness of Violence Against Women and Girls (VAWG) in the county and beyond.
The event was organised by the Magdalene Group whose members have been walking a collective 141 miles throughout May to raise vital funds for the charity which has been supporting women and young people affected by exploitation and sexual violence for nearly 30 years.
PCC Giles Orpen-Smellie was keen to walk with Chief Executive Officer (CEO) Suzi Heybourne and her colleagues on Monday as VAWG is one of his priorities in his new Police, Crime and Community Safety Plan.
"It was a pleasure to take part in such a worthy event not only to get to know those involved in the charity and hear about their vital work but to help spread the message that violence against women and girls will not be tolerated in Norfolk," said Giles.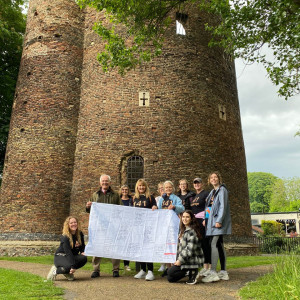 "Suzi and her colleagues should be really proud of their achievement of not just walking 141 miles but for nearly 30 years helping and supporting women and young people affected by sexual violence and exploitation to walk new, safer paths in life."
The Magdalene team have been walking either individually or collectively on Mondays throughout May to highlight that 141 UK women have been killed through male violence in 2021.
CEO Suzi Heybourne, said: "As part of National Walking Month, the Magdalene Group have been walking 141 miles to raise awareness of the Violence Against Women and Girls agenda while raising money to support our continued work in this field.
"The 141 miles has been selected to honour the 141 women who were killed at the hands of men in the UK in 2021."
The group's #141 Challenge will culminate in a final walk along the North Norfolk coast today (Wednesday 1 June).
"For our final mile we will carry a flag bearing the names of the 141 women, in memory of the women who have lost their lives," added Suzi.
"The proceeds will support the work of both our adult and young people's services.
"Our Doorway Women's Service works with some of the most vulnerable and marginalised women in Norwich.
"The Rose Project supports children and young people throughout Norfolk who have experienced or are at risk of sexual exploitation.
"While our Jigsaw Programme delivers training and education to young people and professionals to prevent sexual violence and exploitation across our county."
For more information on the work of the Magdalene Project visit their website: www.magdalenegroup.org
The Office of the Police and Crime Commissioner has funded a number of projects and organisations as part of its successful bid to the Home Office's Safer Streets Fund late last year - made available specifically for projects to tackle violence against women and girls (VAWG).
Students across the county have been taking part in special workshops aimed at highlighting attitudes, behaviours, and misconceptions around sexual violence against women and girls.
The 'Step In, Speak Up' sessions have been delivered to more than 8,000 male and female students aged 14 to 18 at 29 high schools and colleges in Norfolk by national theatre company Performance in Education (PiE).
Other projects being funded by the OPCCN through the Safer Streets Fund, include an expansion of the CCTV network in King's Lynn, improved street lighting in Great Yarmouth and work with the University of East Anglia to develop students' skills in addressing issues and knowing how to recognise and respond to problematic attitudes and behaviours.
The OPCCN has also funded the roll-out of the Government's Enough campaign locally to stop violence against women and girls and is looking to fund further work to ensure the VAWG message continues to be delivered to students at schools and colleges in Norfolk through funding provided to the Norfolk County Community Safety Partnership.
In addition to the VAWG funding the OPCCN also announced additional grants for two other Norfolk charities to help victims and survivors of sexual abuse.
In February the charity Fresh Start New Beginnings - set up to provide a therapeutic service for children and young people who have reported being sexually abused and to offer support for their families - was awarded more than £50,000 to help fund child support workers and specialist services for the next year.
During the same month more than £100,000 was awarded to Norfolk's Sexual Assault Referral Centre (SARC) to continue to fund a team of Independent Sexual Violence Advocates (ISVAs).
ISVAs support victims of rape, attempted rape or serious sexual assault, whether it happened recently or in the past and whether the person supports a police investigation or not.
For more information on the PCC's priorities for Norfolk, including VAWG, read the Police, Crime and Community Safety Plan 2022-24 >>